This green mobile app was first introduced in Croatia in 2017
adapted for use on all types of smart phones
intended for the general public with free app download from Play Store and App Store
the app is available in Croatian language only

The app serves for the purposes of education and information, with an option for active user involvement with the aim of improving service quality and contributing to the environment conservation and cleanliness of the city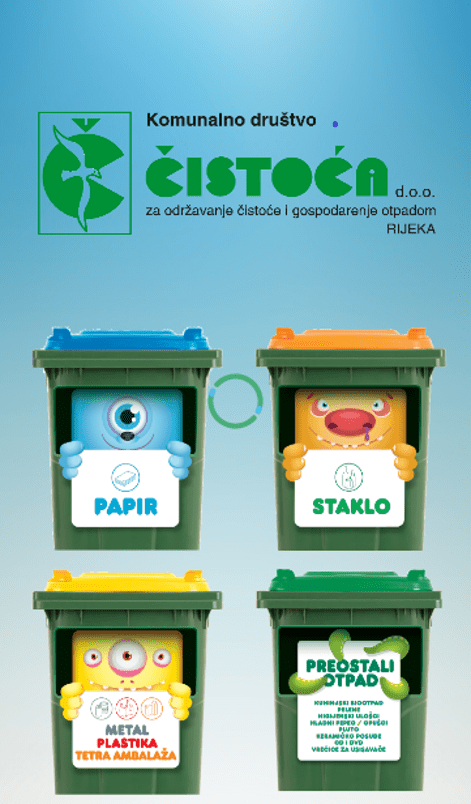 What do e-bins provide for users?
Education and information with the aim of developing environmental awareness and steering the citizens' behaviour in terms of environmental protection, primarily in order to reduce unnecessary waste generation
Active participation with the aim of improving service quality and contributing to the environment conservation and cleanliness of the city
Active citizen participation is possible after registration in the app, which allows the app user to report problems on the spot (damaged bins, illegal waste dumps, failure to deliver services, and improper waste disposal) by entering information in the mobile application and sending it to the info e-mail address.
the possibility of reporting problems on site (damaged bins, illegal waste dumps, failure to deliver services, and improper waste disposal) by entering and sending info using the mobile app
access to the separate types of waste collection calendar for the registered user
option for tracking the quantities of waste separated by the user and keeping a record on the positive impacts on the environment depending on the quantities of separated waste (reducing carbon footprint, energy savings, preservation of trees and raw materials)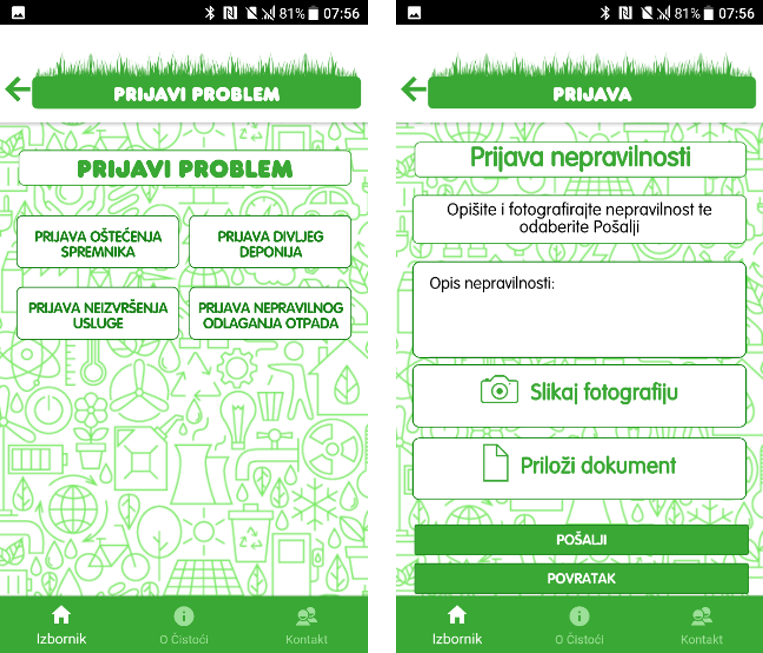 The E-Bins (E-otpadnici) green mobile app is an expansion of the preceding software solution called E-Inventory (E-inventura) which was implemented through the bar-code labelling of the bins and entering the bin information in a unified data base using their GPS location readers.
E-inventory provides a graphical and tabular display of the mobile inventory with the accompanying data, accurate and up-to-date records of the mobile inventory locations presented graphically and geographically via associated GPS coordinates, accurate and up-to-date record keeping of the mobile inventory condition (damage, servicing) as well as better supervision of the mobile inventory.
The app also provides general information on the activities of UC Čistoća as well as the contact information of UC Čistoća and the relevant municipal services monitoring offices of the local self-government units where UC Čistoća manages waste.