Semi-underground containers in Rijeka have been installed on Riva Street, Zanonova Street, on Riva near the intersection with Ignacije Hencke Street, as well as on Riva Boduli Street. Three containers with 3.0 m³ capacity are intended for separate collection of valuable waste (glass, paper, and jointly for plastic, metal and multilayer packaging), and one container of 5.0 m³ capacity for the remaining mixed municipal waste.
They are part of the semi-underground container network being installed in Rijeka's urban core, with the aim of improved service efficiency as well as environment conservation.
All containers are buried in the ground for more than half their height. They are made of high density polyethylene with decorative protection above ground. An impermeable bag is placed on the inside, which is emptied after filling to full capacity.
The containers have an already recognizable visual identity – labels with images of dedicated bins – same as all other waste bins in the area of operation of UC Čistoća.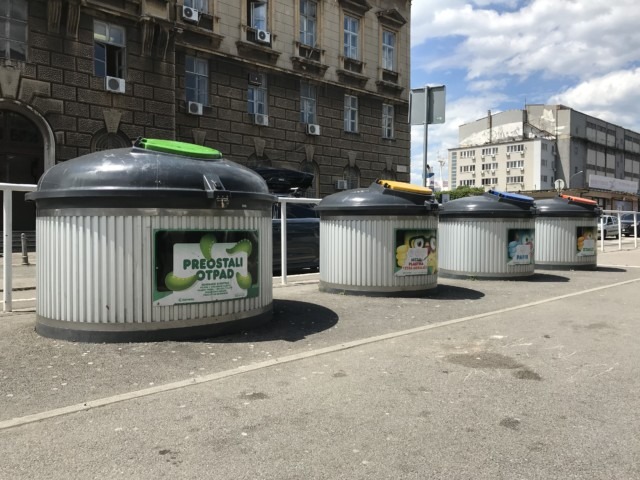 Benefits
The advantage of semi-underground containers is their higher capacity compared to those above ground, which requires less frequent emptying resulting in significantly lower consumption of time, vehicles, equipment and energy.
bigger capacity

less frequent emptying

reduced time consumption

reduced vehicle utilization

reduced equipment utilization
Underground placement also ensures lower temperature, which slows down fermentation and development of unpleasant odours, while a quality lid closing system also improves space hygiene, prevents access to pests as well as the movement and tipping over of containers, which is a common problem during windy periods in Rijeka.
Finally, underground containers take up less of the valuable urban space.