A unique Rijeka project for creating a sustainable and supportive society
Riperaj is a project of UC Čistoća – a place where citizens can repair defective small household appliances, broken and damaged furniture, clothes, toys and the like, with the assistance of repairmen and repairwomen who have the necessary skill sets. Riperaj is the first project of its kind in the Republic of Croatia.
The main goal of starting Riperaj is to reduce the amount of waste in such a way that damaged or defective items for everyday use can be further used, i.e. reused, after minor repairs. In addition, the whole concept allows for the active involvement of interested professionals of various profiles who possess the necessary knowledge and skill sets, with the added value of direct social contact between interested users over coffee or tea.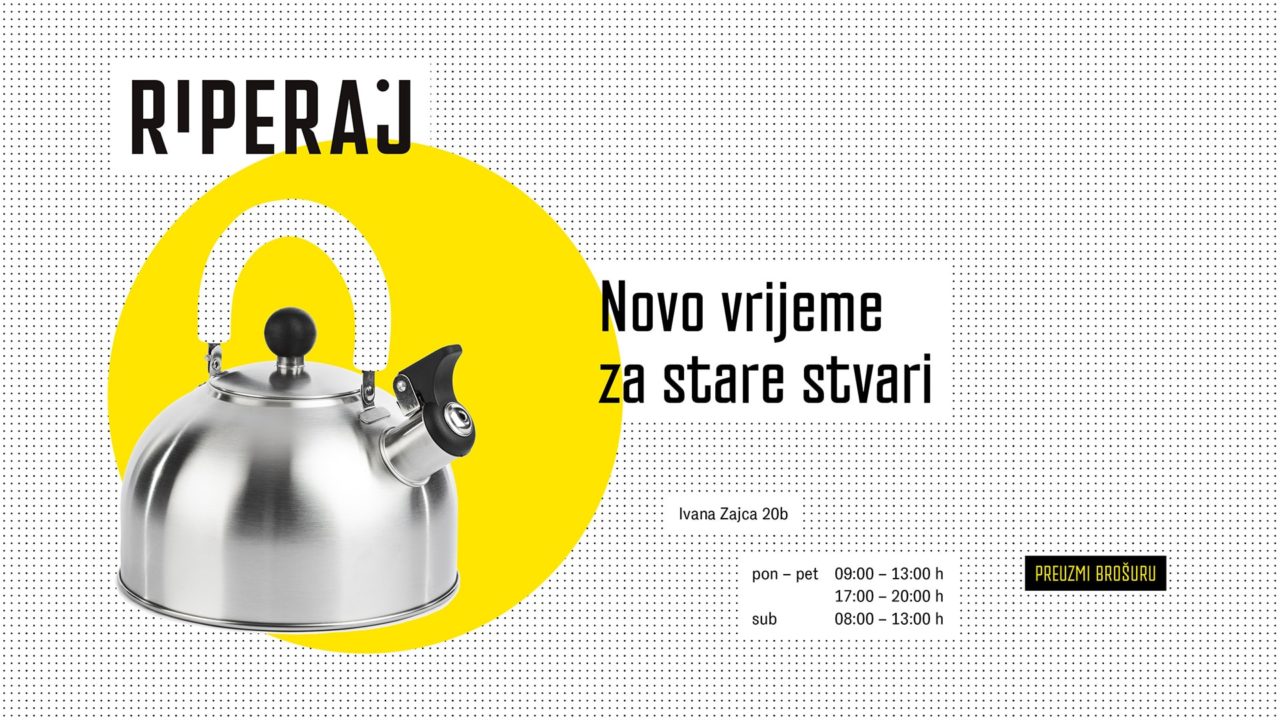 A functional space where citizens can repair items and devices on a do-it-yourself basis free of charge
Riperaj is located at Ivana Zajca 20/b, in the centre of Rijeka. The space is designed in such a way to offer citizens an innovative and primarily functional workshop interior of 121 m2 in size.
The exchange of knowledge, learning and perfecting of skills takes place in the central space at the common table, attempting to reintroduce the somewhat lost tradition of repairing objects, without neglecting the important social component.
The purpose of Riperaj is to provide interested citizens with the space, tools and advice they need to repair, on their own, small household appliances, objects, clothes and toys.
Owners of broken and damaged items can find there some of the harder-to-access tools that are usually not worth investing in. In addition, Riperaj offers an innovative and functional space where users can work safely and repair their own possessions.
Also, all those who are interested can get the support of repairpersons, who can help them solve issues that they do not know how to fix themselves.
Users themselves buy all the spare parts that need to be replaced on their appliances or other items. Unlike in other repair shops, the users do not leave their items for repair in the workshop, but take them home with them.

Tools and spare parts cannot be borrowed out, i.e. taken out of the workshop. As for the parts available in the workshop, the users can only get those that are immediately installed on their item.
Users save money, and the local community establishes a circular economy
With this approach to damaged items that would otherwise become waste, and in a space that is organized in a practical and functional way, supplied with all the necessary tools as well as the necessary expert assistance, the users save money and the local community actively participates in the establishing of a sustainable circular economy.
In addition to preventing waste generation, with this innovative project in Croatia, UC Čistoća Ltd Rijeka aims to promote socializing while working in a both professional and relaxed environment, which directly promotes social cohesion and solidarity, as well as the exchange of already partially forgotten knowledge and experiences. In this way, the basic principle behind Riperaj's slogan – new time for old things – is fulfilled.
Through waste prevention towards a sustainable society
The Waste Management Plan of the Republic of Croatia for the period 2017-2022 sets out the goals and measures that need to be implemented in order to create a resource-efficient society. Its adoption created the prerequisites for the development of a circular economy, in which usable resources are recovered and retained in the economy even after the end-of-life product cycle, in order to be productively re-used and thus create new value. The emphasis is on respecting the waste management hierarchy, with waste prevention, reuse, separate waste collection, recycling and composting at the forefront.
For this purpose, it is necessary to educate the general public and motivate and encourage citizens to separate household waste as much as possible, and through this responsible behaviour contribute to more efficient waste management. In times of excessive consumerism, we easily give up items that can be reused after minor repairs, and automatically throw them in the trash, often out of sheer convenience, instead of considering the potential for reuse.
Therefore, Riperaj's goals are as follows: repair old things with the aim of reducing waste, develop and spread competences in certain professions (electricians, tailors, etc.), promote social cohesion in the local community by putting in touch people from different places and, finally, develop a sustainable society.
Riperaj
Address: Ivana Zajca 20/b, Rijeka
Opening hours:
two daily shifts: Monday to Friday mornings from 09:00 to 13:00 and afternoons from 17:00 to 20:00
Saturdays from 08:00 to 13:00
Notice
As of 1 June 2020 until further notice, Riperaj will be operating at adjusted opening hours, as follows:
Mondays, Wednesdays and Fridays from 09:00 to 13:00
Tuesdays and Thursdays from 17:00 to 20:00.
Also, given the epidemiological situation, we kindly ask our users to follow the instructions regarding the visit to Riperaj. The instructions can be found on this link as well as posted around Riperaj premises.