Where to dispose of used clothes, footwear and textiles?
Old clothing, footwear and textiles are disposed of in dedicated orange bins for the disposal of waste clothing and footwear located on the streets.
In the area of operation of UC Čistoća Rijeka, citizens have at their disposal approximately 100 separate, specialized containers for collecting textile waste with a capacity of 2 m3.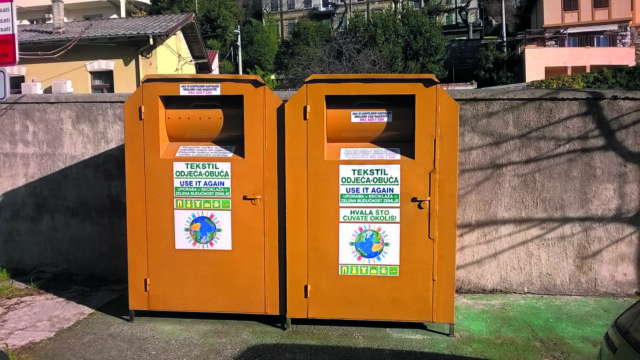 What happens with the collected textile?
Textile is a material made of plant or animal origin fibres. By separate collection and recycling we contribute to the protection of the environment and the preservation of valuable natural resources.
Used textile materials have great potential for reuse, as well as recycling. They can be used for the production of cloths for various purposes, for sound and thermal insulation in construction, interior linings in the automotive industry, fillings for mattresses in the furniture industry, etc.
In addition to these bins, citizens can dispose of old and unusable clothing and footwear, as well as other home textiles, in one of the existing stationary and mobile recycling yards.