On daily basis, large quantities of waste are produced in our homes, which most of us want to get rid of. That waste which is no longer useful to us is a very valuable raw material to others, used to create new products or energy while protecting the environment and contributing to a better future for the planet.
In order to properly dispose of all household waste, eco-islands with containers for separate waste collection are placed on the streets. They allow us to dispose of our useful household waste right at our doorsteps. We get rid of the waste and, instead of it ending up in the environment, the waste is further processed for reuse. The waste needs to be separated, sorted and adapted for further use.
Why separate waste?
Waste is a source of secondary raw materials. Therefore, its separate collection saves natural raw materials and energy. We also save valuable landfill space and reduce water, air and soil pollution. Bins for separate collection of paper, glass, and metal, plastic and multilayer packaging have been installed in the area of the cities and towns of Rijeka, Kraljevica, Kastav and Bakar, as well as the municipalities of Viškovo, Čavle, Jelenje, Klana and Kostrena.
The BLUE Bin – paper
YES, here you can deposit:
newspapers, magazines, brochures, catalogues
notebooks, books, telephone directories, picture books
writing and printer paper, letters, office memos, paper bags
folders, cardboards, cardboard boxes
cardboard binders, corrugated cardboard
NO, do not deposit:
indigo and carbon paper, photographs and photo paper
oily or dirty paper, rubber labels, diapers
laminated and metal-coated paper, paper tissues
Before disposal you should:
fold and arrange cardboard boxes to take up the least amount of space
remove all unwanted substances such as adhesive tapes, plastics or Styrofoam from the waste paper or cardboard
cardboard and paper must not be stained by oil or any other kind of dirt
All items collected in the BLUE BIN go back into processing whereby all discarded paper fibres are turned into a reusable product. This preserves forests, saves energy, reduces water and air pollution and saves expensive landfill space. By recycling 1 tonne of waste paper, we save 1 tonne of wood, around 60,000 litres of water, consume half as much energy and reduce wastewater pollution by 15 times.
ORANGE Bin – glass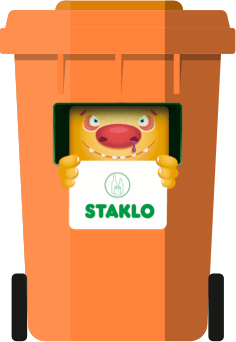 YES, here you can deposit:
glass bottles and jars of all colours
NO, do not deposit:
window panes, car glass, crystal and optical glass, reinforced glass, laboratory glass and glass wool
light bulbs and fluorescent lamps
porcelain and ceramic items
Before disposal you should:
empty and rinse all glass containers
remove bottle tops, lids and other unwanted items (paper labels, etc.)
Glass packaging collected from the ORANGE BIN is a valuable raw material that can be completely recycled countless times and is, therefore, one of the priority materials for separate collection. Separation and recycling of glass packaging ensures savings of natural resources (quartz sand, limestone, natural gas, etc.) and savings of landfill space, while reducing air, water and soil pollution. Furthermore, the energy saved by recycling one glass bottle is enough to power a 100 W light bulb for 4 hours.
YELLOW Bin – metal, plastic, multilayer packaging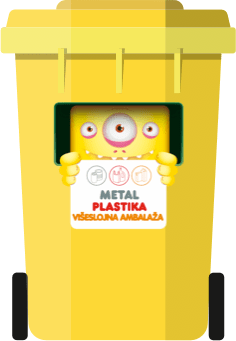 YES, here you can deposit:
plastics, metal and multilayer packaging
polyethylene bags, foil, film, bubble wrap – which can be labelled as follows: PE-HD, PE-LD, PP and alike
bottles and containers for edible oil, distilled water, cleaning and beauty products, medication (except for cytostatic drugs), foodstuff and alike – which can be labelled as follows: PE-HD, PE-LD, PP and alike
yoghurt and cheese cups and containers which can be labelled as PS and PP
containers and packaging for various food products made of polystyrene foam (Styrofoam) – which can be labelled with the symbol EPS and alike
other plastic products: drinks bottles, bottle caps, plastic plates, utensils and alike – which can be labelled as follows:  PE-HD, PP, PVC, PS, PET and alike
empty metal cans for alcoholic and soft drinks
empty metal food cans and other smaller metal items
packaging for milk and milk beverages, fruit juices, water, sauces and tomato purée, soups, puddings, ice-cream, cheese and wine
NO, do not deposit:
plastic packaging containing hazardous substance residues such as motor oils, pesticides, herbicides, poisons and alike
cellophane
CDs, DVDs and records
cans with paint, varnish or oil residues
cans with chemical residues
bottles and cans for flammable and explosive liquids
non-metal packaging
pressurised cylinders and cans (sprays, deodorants)
multilayer packaging for medication
Before disposal you should:
empty the contents out of the packaging
if possible, rinse the insides of the packaging
remove unwanted items such as cork or plastic parts
flatten the packaging to let the air out and fold it so as to take up the least amount of space
Today, plastic is used in almost all industries, especially as a raw material for the production of packaging and other products that we use every day. It takes between 100 and 1,000 years for plastic products to decompose so by recycling plastics we help preserve the environment, but also protect the natural resources of oil and natural gas. When the YELLOW BIN is full, all collected plastic is recycled and converted into new products such as new packaging, clothing, fibre or insulation material.
Metal packaging and smaller metal items collected in the YELLOW BIN represent great potential for reuse. All types of metal waste can be recycled multiple times. Recycling 1 tonne of aluminium cans saves 5 tonnes of bauxite and consumes 20 times less energy.
The multi-layered packaging for milk and milk beverages, juices or sauces collected in the yellow bin is composed of 70% paper, 20% polyethylene and 5% aluminium. Recycling of multilayer packaging produces fibres for the production of paper from which printer paper, paper bags, fibre paper and boxes are made.
GREEN Bin – other waste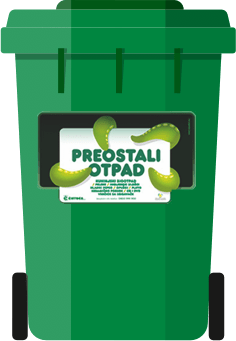 The green bin is meant for the disposing of the remaining waste which is generated during our daily activities and is not intended for the other bins.
YES, here you can deposit:
Household bio-waste, diapers, sanitary napkins, cold ashes, cigarette butts, cork, ceramic and porcelain dishes, lighters, toys, chewing gums, rubber gloves, vacuum cleaner bags
NO, do not deposit:
Hazardous waste that can seriously harm human health and the environment if not collected separately in designated containers at designated locations. Hazardous waste includes old medications, waste batteries, paints, varnishes, solvents, pesticides…
PLEASE NOTE!
All waste deposited in the GREEN BIN must not be disposed of as loose items. Please dispose of all remaining waste in properly sealed bags.